An Eye Doctor in Greenwood Who Gives One-Hundred Percent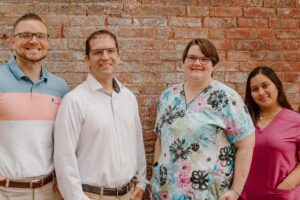 When taking steps to improve your vision and the general health of your eyes, it makes sense that you want to learn a bit more about the practice and doctor taking care of you and your vision. Dr. Sam Johansen and the rest of us here at [company_name] are committed to doing everything we can to reassure our current and potential clients that we're more than well-qualified to educate them on both common and uncommon eye conditions and provide them with dependable and comprehensive care. Take a moment to learn more about us as we learn more about how we can better serve you and your eyes in the Greenwood SC county.
Bringing the Facts Into Focus
Here at [company_name], we're all about personalized care and making our patients feel like true individuals rather than numbers. While we currently only have four employees, we feel this number helps with our mission for a more intimate setting and equally intimate vision services. With Dr. Johansen as your eye doctor in Greenwood SC, you're sure to feel that you're receiving the best of care with the industry's top and latest technology.
Aspects of our business that we feel differentiate us from other eye care providers in the Ninety Six area include:
We're able to serve and communicate with Spanish-speaking customers.
We offer superior customer service with a personal touch.
Our patients have access to a generous selection of high quality eye wear, which allows them to find the perfect frames to match their unique style and personal budget.
Our Hours of Operation
As part of our commitment to convenience, we also try to maintain hours of operation that fit well with our patients' schedules. Our current hours are:
Monday: 8:30 AM – 5:00 PM
Tuesday: Closed
Wednesday: 8:30 AM – 5:00 PM
Thursday: 8:30AM – 5:00 PM
Friday: 8:30 AM – 3:00 PM
Contact Us Today
Ready to see the world and everything in it clearly? Call [company_phone]. You can also fill out and submit an online appointment request form.