Meet Your Eye Doctors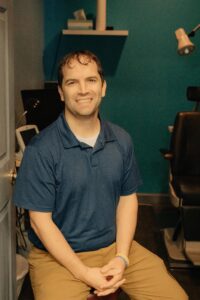 Dr. Samuel Johansen, O.D.
Dr. Samuel Johansen is a general practice eye doctor in the Greenwood, SC area. His focus is on providing the best possible care while also building relationships with his patients and the nearby community.
A native of South Carolina, Dr. Johansen grew up in and around Ninety Six, which made him very familiar with the local community. He is married with three children and loves spending time with his family when he isn't treating patients. Dr. Johansen is bilingual and speaks both English and Spanish, allowing him to interact with a wide variety of patients.
Dr. Kyle P. Fluharty, O.D.
Dr. Kyle Fluharty is a member of the first graduating class from the University of Pikeville, Kentucky College of Optometry. Prior to optometry school he was a collegiate athlete with a modest baseball career while obtaining a degree in Biology at Heidelberg University in Tiffin, Ohio close to where he grew up. During optometry school, Dr. Fluharty was involved in many extra-curricular activities including the sports vision club, being a student ambassador for the school, a class liaison, and working with local school children providing school screenings and general health education to help teach general nutrition tips and exercise advice. During his 4th year of optometry school rotations he focused on ocular disease practices which lead to pursuing a residency in ocular disease at Omni Eye Services of Atlanta. Over the course of residency, Dr. Fluharty worked directly alongside different specialties including cornea, cataract, glaucoma, and retina to diagnose and manage all forms of ocular disease. Dr. Fluharty looks forward to applying his knowledge and experience in managing ocular disease to his patients in a primary eye care setting.
The Practice
As the owner of [company_name], Dr. Johansen strives to provide thorough eye care with a personalized touch. Personal connections with patients are very important to him and our team, as are relationships with the broader community.
Special Services
[company_name] offers comprehensive eye exams along with a wide variety of corrective lenses, contacts, frames, and other eyewear. Additionally, our practice treats a number of common eye problems such as:
Glaucoma
Dry Eye
Cataracts
Red or pink Eye
Macular Degeneration
Dr. Johansen also specializes in diabetic eye care as well as blue vision protection.
Locations and Hours
With two locations in Greenwood and Newberry, South Carolina, [company_name] is equipped to assist South Carolina patients in the Ninety-Six, Chappells, Saluda, and McCormick area. Dr. Johansen is available to treat patients six days a week, three days in each location. The practice is open into the evening in order to offer more options for patients with busy schedules.
Contact Us
At Johansen Precision Eye Care, your vision is our mission. If you would like to get to know Dr. Johansen better, or if you would like to set up an appointment, call us today or use the convenient online form. We're ready to help you achieve the healthy vision you need.