Meet Your Eye Doctor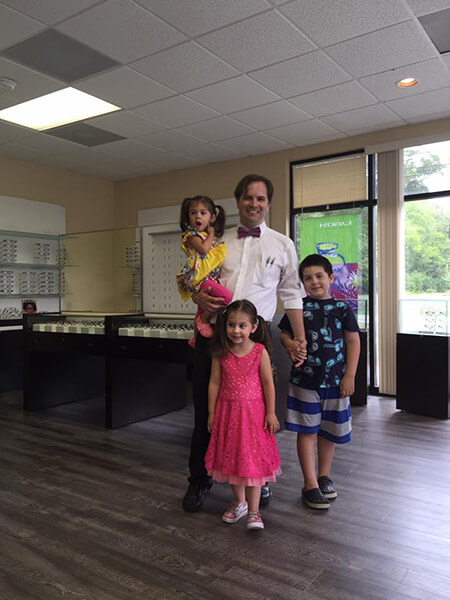 Dr. Samuel Johansen is a general practice eye doctor in the Greenwood, SC area. His focus is on providing the best possible care while also building relationships with his patients and the nearby community.
A Local Physician
A native of South Carolina, Dr. Johansen grew up in and around Ninety Six, which made him very familiar with the local community. He is married with three children and loves spending time with his family when he isn't treating patients. Dr. Johansen is bilingual and speaks both English and Spanish, allowing him to interact with a wide variety of patients.
The Practice
As the owner of Johansen Precision Eye Care, Dr. Johansen strives to provide thorough eye care with a personalized touch. Personal connections with patients are very important to him and our team, as are relationships with the broader community.
Special Services
Johansen Precision Eye Care offers comprehensive eye exams along with a wide variety of corrective lenses, contacts, frames, and other eyewear. Additionally, our practice treats a number of common eye problems such as:
Glaucoma
Dry Eye
Cataracts
Red or pink Eye
Macular Degeneration
Dr. Johansen also specializes in diabetic eye care as well as blue vision protection.
Locations and Hours
With two locations in Greenwood and Newberry, South Carolina, Johansen Precision Eye Care is equipped to assist South Carolina patients in the Ninety-Six, Chappells, Saluda, and McCormick area. Dr. Johansen is available to treat patients six days a week, three days in each location. The practice is open into the evening in order to offer more options for patients with busy schedules.
Contact Us
At Johansen Precision Eye Care, your vision is our mission. If you would like to get to know Dr. Johansen better, or if you would like to set up an appointment, contact us today at (864) 543-3939, or use the convenient online form. We're ready to help you achieve the healthy vision you need.